Delivery Areas to South East England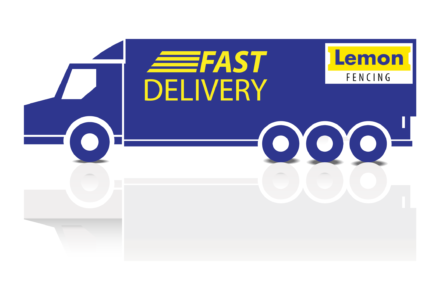 Lemon Fencing deliver to a large area South East England, directly from our own storage. Please note that we offer kerb side delivery and will place the goods on driveways whenever possible, in line with our insurance and health and safety policies. Goods will not be carried through or around premises.
Delivery Timescales
Our standard delivery service is 2-10 working days, although this is sometimes extended due to stock levels and seasonal demand. Sheds can be up to 4-12 weeks, depending on season.
 If you are not in, our driver will leave the items in the best suited place available and take a photo of the delivery.
Our trucks are tracked, so if you would like a more specific time, please phone on the day of delivery or the day before. We try to give either an AM or PM time slot for our deliveries. Deliveries can sometimes over run due to factors out of our control, such as traffic / weather / mechanical failure.
Sometimes we can deliver even quicker than we anticipate.
If you would like to discuss delivery on a specific day please contact us on 01702 615333 or 01702 615618.
The postcodes below are what we refer to as Area A. These postcodes are one that Lemon fencing physically to deliver to ourselves. There is no minimum order quantity, the delivery charge covers 1 item.
If your postcode is not on this list (Area B), don't worry. Call our office to see what price we can do to deliver to your area.
We can deliver some items nationally, please call us on 01702 615333 or email sales@lemonfencing.co.uk for more help.
To view the delivery charges in PDF format, click the link below;