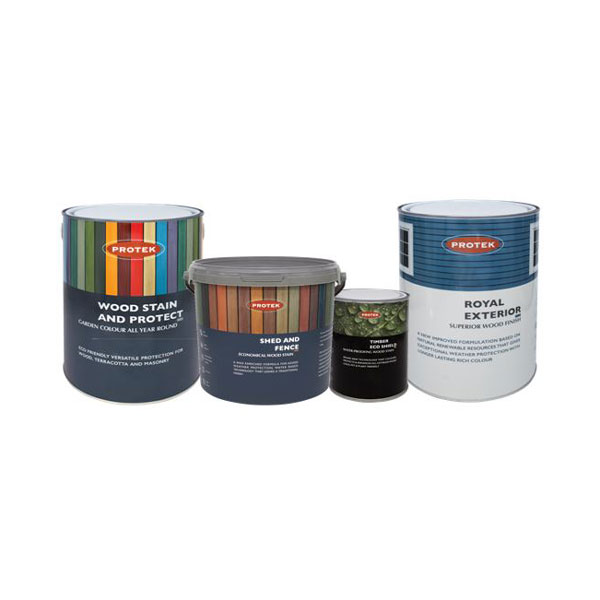 What Protector should we use?
Our products are all Wood Stains that colour and create a waterproof coating to protect against the elements.
We do not include preservative chemicals in any of our Protek products as a lot of timber comes pre-treated. By separating out the preservative process it means we are not using chemicals unnecessarily thus giving the environment another helping hand.
After using our products, brushes can be cleaned just using water – no white spirit needed.
Basic Economy stain
Water-based equivelant to other creosote type products
A traditional natural looking matte stain finish
Thin stain that soaks into the timber protecting the wood
The resins and waxes in it make it water-repellant
Product is suitable for vertical softwood surfaces
Repaint every year to maintan level of protection
Two coats advised
Better quality product with higher levels of protection than Shed & Fence
A range of 36 colours from natural tones to primary shades
A soft, flexible wood stain coating that penetrates the timber creating a coating on top.
The resins in the stain makes it water-repellent
Suitable for vertical softwood surfaces
Lasts from 2-4 years depending on levels of wear & tear and exposure to the elements.
High-grade product superior to Wood Stain & Protector
Water-based equivalent to Ronseal type products
Opaque satin finish in 58 colours – paint doesn't look as dense and thick as a wood paint
Stain penetrates timber and creates a coating on top
Acrylic resin & polyurethane from linseed oil make it highly water repellent and hard-wearing
Lasts 2-5 years depending on levels of wear & tear plus exposure
Suitable for horizontal & vertical surfaces plus softwood and hardwood